Get It

Book
HL #50449400
ISBN 0-87639-013-0

Tell a Friend
Email someone who you think might like this title.
A Modern Method for Guitar, Volume 1
by William Leavitt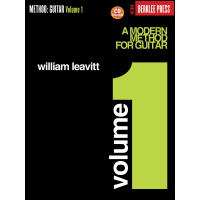 The Leavitt guitar method, used as the basic text for the Berklee College of Music guitar program, has stood the test of time and earned a loyal following of students and instructors. Comprised of three volumes, this method is a practical and comprehensive guitar insruction program designed for beginning through advanced levels of playing. Volume 1 teaches beginning guitar students all the fundamentals that build a solid foundation of musicianship, including: scales, melodic studies, chord and arpeggio studies, special exercises for both hands, accompaniment techniques, and a unique approach to voice leading using moveable chord forms.
BUZZ
"These books will always feature in my "all time best" list. All three books should be in every guitarist's bookshelf - in my case they became a musical bible that I will surely use my whole life. To me this is the best overall guitar method I have come across."
-iBreatheMusic.com
Also by William Leavitt