Get It

Book
HL #50449420
ISBN 0-87639-017-3

Tell a Friend
Email someone who you think might like this title.
A Modern Method for Guitar, Volume 3
by William Leavitt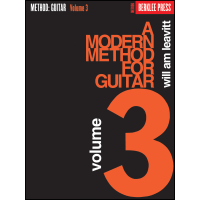 After completing Volumes 1 and 2, this volume offers a more in-depth study of guitar. Features advanced playing tips and techniques relating to scales, arpeggios, rhythm guitar, chord/scale relationship, chord construction (with special attention to the melodization of three note stuctures), and chord voicings.
BUZZ
"These books will always feature in my "all time best" list. All three books should be in every guitarist's bookshelf - in my case they became a musical bible that I will surely use my whole life. To me this is the best overall guitar method I have come across."
-iBreatheMusic.com
Also by William Leavitt