Get It

Book
HL #50449830
ISBN 0-793554128

Tell a Friend
Email someone who you think might like this title.
Technique of the Saxophone, Volume 2
by Joseph Viola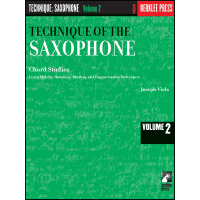 This Berklee Workshop is a highly effective and comprehensive workshop for developing complete technical and musical skills on the saxophone. Volume 2, focusing on chord studies, is a continuation and expansion of techniques presented in Volume 1, with a special emphasis on chordal concepts. Includes challenging and innovative studies based on basic and extended chords. An excellent application of chord theory.
Also by Joseph Viola