Preparing for Your Concert
by JoAnne Brackeen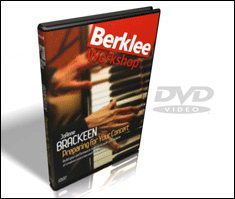 Preparing for Your Concert will help you hit the stage with the confidence you need and the professionalism your audience deserves.
Bring more freedom and creativity to every performance with the help of renowned pianist and Berklee professor Joanne Brackeen.
No matter what instrument you play, Joanne's practical exercises, warm ups, and practice tips will help build your playing foundation. Whether you're playing a formal set or improvising or going solo, this workshop will sharpen your performance chops.
Lessons include:
Building a foundation of confidence
Refining the Rough Spots
Improvisation Exercises
Improvisation Concepts
Preparing for Variety
Watch the Trailer
Preview this DVD by watching the trailer in our Online Video Stream player. You need the free Flash 6 Player from Macromedia to view the trailers. Download it from http://www.macromedia.com.
Watch the trailer: Low/Modem or Hi/Broadband
Berklee Press DVDs are coded for all regions
Click here for supplemental material for this disc.
About the Author
Berklee professor Joanne Brackeen is widely considered one of the most inventive, accomplished pianists and composers in modern jazz. She has released more than 25 critically acclaimed albums, and performed throughout the world as a solo artist and bandleader. Her brilliant piano work has accompanied legendary artists like Art Blakey, Stan Getz, Joe Henderson, Dexter Gordon, and Pharoah Sanders.
JoAnne Brackeen