Tell a Friend
Email someone who you think might like this title.
Kenwood Dennard: The Studio / Touring Drummer
by Kenwood Dennard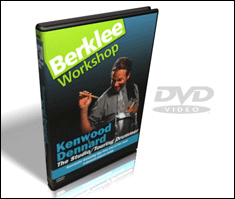 Voted One of Top 5 Best Educational DVDs in Modern Drummer's 2005 Reader's Poll
Learn how to find just the right groove for any session or performance. In this workshop, you'll learn techniques that have made Kenwood Dennard on of the most in-demand drummers in the business. Learn how to get the most out of each practice session, how to internalize the melody, play melodic solos, and more! No matter what role you're asked to play, on stage or in the studio. Dennard will inspire you to bring more energy, expression, and variety to every performance.
Lessons include:
How to build melodic solos on the drum set
Adapting your groove to the artist's style
Setting up a good foundation for different drum geographies
Solfege techniques
The use of contrast, registration and orchestration
Watch the Trailer
Preview this DVD by watching the trailer in our Online Video Stream player. You need the free Flash 6 Player from Macromedia to view the trailers. Download it from http://www.macromedia.com.
Watch the trailer: Low/Modem or Hi/Broadband
About the Author
Kenwood Dennard, an Associate Professor of Percussion at Berklee College of Music, is widely considered to be among today's top drummers. He has toured and recorded with many musical greats including Herbie Hancock, Maceo Parker, and Wayne Shorter. Among the albums he has been a featured player on Sting's Nothing Like the Sun, and Miles Davis and Quincy Jones' Live at Montreux.
Kenwood Dennard
BUZZ
"Dennard draws on his 25+ years of experience to give you a ...full hour of drum clinics so you can learn at your own pace."
-Music Connection magazine
Sample Lessons on Berklee Shares
Samples from this title are available on Berkleeshares.com, where you can download free music lessons and share them with your friends.