Improvisation for Saxophone: The Scale/Mode Approach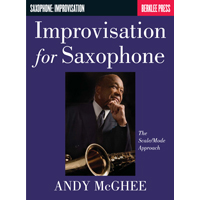 Expand the creative breadth of your soloing. Since its original publication in 1974, this book has been a treasured improvisation resource for players worldwide. These step-by-step exercises and explanations will help you develop your ear and improve your soloing technique. You will learn the intimate relationships between modes and chords, practicing licks and solos that grow out of their underlying harmonies and sound natural for the tune.
You will learn:
How to use the distinctive qualities associated with modes and scales for more expressive soloing
Relationships between scales and chords
Licks typical of each mode and scale
Solos built on the different modes and scales
How to improvise over common jazz progressions
Author and jazz master Andy McGhee has taught at Berklee since 1966, before which he toured with Lionel Hampton and Woody Herman. He has taught thousands of musicians to improvise, including luminaries such as Bill Pierce, Javon Jackson, Donald Harrison, Antonio Hart, Richie Cole, Greg Osby, Jaleel Shaw, and Ralph Moore.
"Improvisation for Saxophone/Flute by Andy McGhee was my primary source of reference during my years of study at Berklee. I was able to progress at an alarming rate under Andy's watchful eyes and ears, and his practice journal provided me with a logical and progressive method that was an invaluable resource for me towards my development."
—Greg Osby, Jazz Saxophonist
"For over six decades, Andy McGhee has sustained a remarkable career as a jazz instrumentalist and educator. Fortunately for us, Andy shares his insights and strategies on improvisation through this publication. These techniques have worked for thousands of students, including me. Carefully following this material step by step will guarantee your success as a soloist and improviser."
—Javon Jackson, Jazz Saxophonist (Art Blakey and the Jazz Messengers, Elvin Jones, Freddie Hubbard)
"Andy McGhee imparts the techniques behind his own masterful musicianship."
—Donald Harrison, Jazz Saxophonist, Composer, Educator (Roy Haynes, Jack McDuff, Art Blakey's Jazz Messengers, Miles Davis)
"Andy McGhee has created a clear and informative process to the study of improvisation. This is a 'hands-on' method by an artist who excels on the stage and in the classroom. This method book will go a long way in improving any player's approach to performance."
—Bill Pierce, Chair of Woodwind Department at Berklee College of Music