Tell a Friend
Email someone who you think might like this title.
Music Law in the Digital Age
by Allen Bargfrede, Cecily Mak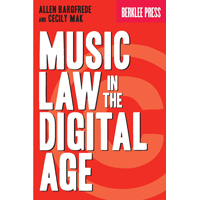 Learn copyright essentials in order to succeed in today's music industry. With the free-form exchange of music files and musical ideas online, understanding copyright laws has become essential to career success in the new music marketplace. This cutting-edge, plain-language guide shows you how copyright law drives the contemporary music industry.
By looking at the law and its recent history, you will understand the new issues introduced by the digital age, as well as continuing issues of traditional copyright law. Whether you are an artist, lawyer, entertainment Web site administrator, record label executive, student, or other participant in the music industry, this book will help you understand how copyright law affects you, helping you use the law to your benefit.
How do you get fair compensation for your work and avoid making costly mistakes?
Can you control who is selling your music on their Web site?
Is it legal to create mash-ups?
What qualifies as fair use?
How do you clear another artist's samples to use in your own recordings?
What is the Creative Commons/Copyleft movement?
How do you clear music for use in an online music service or store?
Who decides who gets paid, how much, and by whom?
You will learn the answers to these questions, as well as:
The basics of copyright law, looking at the Copyright Act while explaining it in plain language
How revenue streams for music are generated under copyright law
The reasoning behind high-profile court decisions related to copyright violations
What licenses are needed for the legal online delivery of music
The intricacies of using music on sites like MySpace and YouTube
Deficiencies in current copyright law and new business model ideas
Allen Bargfrede, Esq. is a practicing entertainment and technology attorney and teaches music law at Berklee College of Music. Cecily Mak, Esq. is the senior counsel and director of music licensing for the digital music service Rhapsody at RealNetworks, Inc., and teaches digital media law at UC Hastings.
"As advisor to Artists and to Digital Media Companies, I am happy to recommend a great resource for my clients, and for others, a no-nonsense review of Music Law updated to address 21st Century issues. I commend the authors for putting together this authoritative and user-friendly summary."
—Fred Davis, Senior Partner, Davis Shapiro Lewit and Hayes
"With advances in technology and digital distribution of music evolving so rapidly these days, it becomes a daunting task for an artist to try and keep up with the constantly changing legal side of copyright laws, licensing, and royalty distribution. In a very clear and well organized way, this book will bring you up to date on these important topics and help you to thrive in the business. I found the checklists helpful and plan on keeping a copy in my studio for future reference.
—Danny Weinkauf, Grammy-winning musician and songwriter (They Might Be Giants, Fountains of Wayne, Candy Butchers)
"This book provides the foundation on which the music business was built but puts its emphasis on the legalities of the current digital era. An essential and important look at the modern times of our music business."
—Kim Buie, Vice President of A+R, Lost Highway/Universal
The only thing more confusing than the issue of rights in the music industry is the U.S. tax code, which is likely to be fixed long before copyright law becomes rational and practical. When trying to earn a fair dollar for what they create in a landscape as skewed as Wonderland, what's a young artist, producer, writer, entrepreneur to do? Start here. Cecily and Allen have done a great job in clarifying the key issues surrounding copyright and dissemination of intellectual property. Their book is a perfect travel guide for the intrepid ones who are willing to risk all in the terra incognita that is the modern recorded music industry. Ignore it at your peril!!!
—Bob Ezrin, producer, entrepreneur, writer, digital pioneer (Pink Floyd, Lou Reed, Peter Gabriel, and Jane's Addiction)
"I wish that this book was available when I started my career. As technology is advancing at such a rapid rate, so is the music industry. A lot of our success has come from online and digital sources, and in this book, you will find clear and thorough explanations of the changes that are occurring and how they can truly benefit the artist. This is a must-have for anyone pursuing a career in the music industry."
—Jeff Apruzzese (Passion Pit)