Latin Jazz Grooves
by Victor Mendoza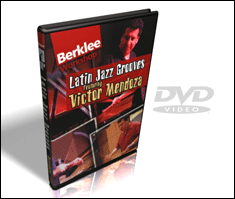 Learn about Latin jazz grooves and Afro-Cuban melodic phrasing techniques .
Latin Jazz is a blending of Jazz and Afro-Cuban music. Let Jazz great Victor Mendoza help you harness all the passion and liveliness that the rhythms and harmonies of Latin jazz demand. He will take your musical vocabulary and knowledge of rhythm, scales, and common chord progressions to explore this rich musical style.
Learn basics of Afro-Cuban jazz to create sizzling Latin groove patterns including:
Son Clave
Rumba Clave
Cascara
Tumbao
Victor Mendoza will guide you through techniques with practice / play-along tracks featuring Victor and friends; be sure to watch the included concert performance by Victor , Eguie Castrillo, Fernando Huergo, Rafael Alcalá and Pablo Bencid.
Watch the Trailer
Preview this DVD by watching the trailer. You need the Quicktime player from Apple to view the trailers. Download it from http://www.apple.com/quicktime/products/qt/.
Watch the trailer: Low/Modem or Hi/Broadband
Click here for supplemental material for this disc.
About the Author
Victor Mendoza, is a vibraphonist, composer, and professor at Berklee College of Music. He has been an invaluable resource in helping to forge a Latin music curriculum at Berklee. Considered by critics around the world to be one of today's finest Latin jazz artists, he was named one of the "Outstanding Latin Jazz Artists of the Year" by Latin Beat Magazine. He has performed and recorded with many great musicians including Paquito D'Rivera, Danilo Perez, and Claudio Roditi, Michel Camilo and Giovanni Hidalgo, among others.
BUZZ
"As a teacher, composer, arranger, talent scout and activist in the knowledge, study and development of what we call today "Latin Jazz", Victor Mendoza is one of the most valuable."
-Paquito D'Rivera
"Whether it be a steaming Latin jazz piece, or a quiet solo introspection, Victor brings intelligence and finesse to his music."
-DownBeat magazine
". . . intelligent Latin jazz played with wit and finesse."
- Jazz Times magazine