Get It

Book/CD
HL #50449609

Tell a Friend
Email someone who you think might like this title.
Beyond Bluegrass Mandolin: Etudes and Ideas for the Modern Mandolinist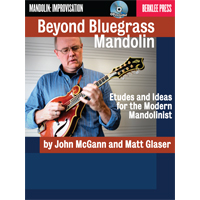 Improvise with more expression and freedom in bluegrass and related styles. These ideas, exercises, and etudes will help you expand your palette of improvisational techniques and sounds. Develop your versatility over the fingerboard, and master harmonic and rhythmic ideas on the violin. The CD has demonstration and play-along tracks, performed by an all-star band.
You will learn to build solos using techniques such as:
Uncovering a melody's most defining notes, and using it in a new context
Reharmonizing chords and changing modes
Breaking down, rearranging, and varying melodic and rhythmic cells
Using position shifts, string crossings, and double stops
Drawing from tetrachords, guide-tone lines, and other constructs
John McGann is a gifted multi-instrumentalist and composer/arranger, specializing in mandolin family instruments as well as electric and acoustic guitar. He won the 1986 National Flatpicking Championship on mandolin, and is professor of mandolin at Berklee College of Music, serving the string, guitar, and ensemble departments. He has worked within a wide variety of idioms, including jazz, classical, bluegrass, various American traditional music styles, and Irish dance music, and has performed internationally and recorded with numerous artists, including David Grisman, Russ Barenberg, Darol Anger, Mark O'Connor, Tim O'Brien, Joe Derrane, the Boston Pops, and many others.
Matt Glaser is a fiddler, educator, and author, who has performed with Stephane Grappelli, David Grisman, Lee Konitz, Bob Dylan, J. Geils, Leo Kottke, Joe Lovano, Charlie Haden, Michael Brecker, Kenny Werner, Alison Krauss, Bela Fleck, the Waverly Consort, Fiddle Fever, and most recently, the Wayfaring Strangers. He is artistic director of the American Roots music program at Berklee College of Music, after serving as string department chair for twenty-eight years, and has mentored thousands of musicians.
"Hats off to Matt Glaser and John McGann for effectively tackling a subject that has been near and dear to me for nearly half a century!"
—David Grisman, Mandolinist/Composer/Producer, father of Dawg Music, Grisman/Garcia, DGQ
"My good friends Matt Glaser and John McGann have created a wonderful new study guide and play-along CD for the aspiring mandolinist. They've broken down some hard to define concepts hidden in the deep parts of the improvising musician's psyche. The layout is simple and understandable, with a progressive approach that should help all mandolinists unlock some of these mysteries."
—Mike Marshall, Mandolinist/Multi-instrumentalist (Chris Thile, Edgar Meyer, Mark O'Connor, David Grisman and Bela Fleck, ex-Modern Mandolin Quartet)
"Beyond Bluegrass Mandolin is an insightful and fun step-by-step primer for any mandolinist interested in expanding their musical vision by diving deeper into melodic and rhythmic improvisation."
—Andy Statman, Mandolin and Clarinet Master of Bluegrass, Jazz, and Klezmer (Bob Dylan, David Bromberg, Vassar Clements)
"Matt Glaser and John McGann are among an elite group of teachers who can combine musical theory with musical expression in a way that is not only interesting but aesthetically desirable. In this book, they make it all make sense, in a surprising, funny, affably abrasive way. It's an approach to music and ideas that brings us back to the living essence of what it is to be a feeling and thinking human being. Dig them now."
—Darol Anger, Violinist and Producer