Get It

Book/CD
HL #50449610

Tell a Friend
Email someone who you think might like this title.
Beyond Bluegrass Banjo: Etudes and Ideas for the Modern Banjo Player
by Matt Glaser, Dave Hollender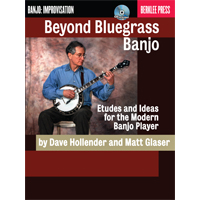 Play and improvise with more expression and freedom in bluegrass and related styles. These ideas, exercises, and etudes will help you expand your palette of improvisational and compositional techniques and sounds. Develop your versatility over the fingerboard, and master harmonic and rhythmic ideas on the banjo. The CD has demonstration and play-along tracks, performed by an all-star bluegrass band.
You will learn to build solos using techniques such as:
Recognizing a melody's defining notes, and using them in new contexts
Reharmonizing chords and changing modes
Breaking down, rearranging, and varying melodic and rhythmic cells
Arranging melodies in different registers that span the full length of the fretboard
Drawing from chord forms, tetrachords, guide-tone lines, and other constructs
Dave Hollender is a banjo player and bassist who has performed bluegrass, jazz and classical music with the Wayfaring Strangers, Darol Anger, John McGann, Hanneke Cassel, Charlie Haden, Joe Williams, Diana Krall, J. Geils, the Shangri-La's, Boston Philharmonic and many others. He joined the Berklee College of Music faculty in 1987. He is the first banjo teacher at Berklee and developed Berklee's banjo curriculum.
Matt Glaser is a fiddler, educator, and author, who has performed with Stephane Grappelli, David Grisman, Lee Konitz, Bob Dylan, J. Geils, Leo Kottke, Joe Lovano, Charlie Haden, Michael Brecker, Kenny Werner, Alison Krauss, Bela Fleck, the Waverly Consort, Fiddle Fever, and most recently, the Wayfaring Strangers. He is artistic director of the American Roots music program at Berklee College of Music, after serving as string department chair for twenty-eight years, and has mentored thousands of musicians.
"This book opens up new vistas on the banjo, particularly useful for advanced players. Thanks to Berklee authors Hollender and Glaser, you will find a lot of fresh, musical sounds, informed by a solid theoretical base. It securely fills a hole in the middle of banjo pedagogy." —Tony Trischka, Banjo Great
This is a very valuable resource for banjo players. I like that the emphasis is first and foremost on furthering one's musicianship and that the scope of the discussion is not narrowed by whether the application is technically "banjo-friendly." The tunes provide concrete and insightful examples of how the concepts can be effectively put into practice on the banjo. Very worthwhile.
—Noam Pikelny, Banjo Player (Punch Brothers), winner of the Steve Martin Prize for Excellence in Banjo and Bluegrass
"Beyond Bluegrass Banjo is designed for the intermediate to advanced contemporary bluegrass banjo player who is ready to get serious about applying jazz concepts to their playing. Matt Glaser's compositions will open your ears to a world of new sounds, and Dave Hollender's arrangements and analyses introduce concepts that will open your mind to new ideas about improvising, composing, and arranging. I guarantee that your fingers and your brain will be supremely stretched after spending even just a bit of time with this important new book."
—Bill Evans, author of Banjo For Dummies
Also by Matt Glaser