Tell a Friend
Email someone who you think might like this title.
Drum Studies: Concepts, Reading, Phrasing, and Technique
by Dave Vose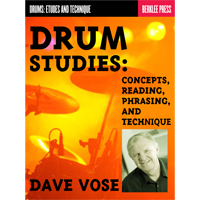 Develop your drumming technical facility and expressive depth. These studies provide comprehensive insight and practice into many different aspects of drumming. They will help you to master a broad range of techniques, and integrate them into your playing, so that you can achieve greater depth in your grooves and general precision in all your drumming. This will help you if you play drum set in any style, orchestral percussion, or other drum/percussion-playing context.
You will learn to:
Develop technical skills, such as stickings and flams
Gain control over syncopations, articulations, dynamics, drum tone, and other types of sound and expression
Practice reading rhythms, meters, tempos, and drum set orchestrations, using a variety of notation approaches
Communicate the over-arching expressive purpose of a piece, putting together all the technical components
Dave Vose is a professor at Berklee College of Music, where he has trained thousands of drummers to play in a variety of musical styles. He has performed with the Drifters, Freddy Cannon, and Freedom, and is an artist clinician with the Zildjian Company, Grover Percussion, and the Yamaha Corporation of America. He is also author of The Reading Drummer (Berklee Press).
"A fresh, new, unique approach to developing technique and style."
—Vic Firth
This is a snare drum book that orchestral percussionists, rudimental drummers, and drum set players will find useful and fun! The pieces are fresh, creative and pedagogically sound. I recommend this book to any drummer who wants to improve their skills.
—James Campbell, Professor of Music and Director of Percussion Studies University of Kentucky, Principal Percussionist with the Lexington Philharmonic, clinician for Zildjian Cymbals, and Performing Artist for Yamaha Corporation of America
"Applying rudimental and orchestral snare drum books to the drum set has played a crucial role in the development of my musicianship. Vose's book lays out concepts of coordination, reading, phrasing, dynamics, and technique into tidy, manageable pieces that would be perfect for high school and college recitals. A future staple of the percussion repertoire."
—Rich Redmond, Drummer/Producer/Clinician (Bryan Adams, Jason Aldean, and Jewel, among others; a Grover Percussion artist
Also by Dave Vose