Get It

Book/CD
HL #50449628
ISBN

Tell a Friend
Email someone who you think might like this title.
Saxophone Sound Effects: Circular Breathing, Multiphonics, Altissimo Register Playing and Much More!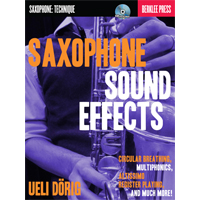 Add unique saxophone sounds to your palette of colors. The saxophone is capable of a great range of sounds, from growls and laughs to multiphonics and percussion effects. This book shows you how to do nineteen different inventive effects, with etudes that put them in a musical context. The accompanying CD provides play-along tracks for the etudes and examples of each sound effect in isolation.
You will learn to:
Play multiphonics, quartertones, and in the altissimo register
Perform essential advanced saxophone techniques such as circular breathing, flutter-, double- and triple-tonguing
Master false fingerings, complex trills, ghost notes, and different types of vibrato
Use percussive techniques, such as clicking, clapping, and damping
Produce growls, low "A"s, as well as laughing and blowing sounds
Explore sounds unique to isolating the mouthpiece, neck, and how to create hybrid instruments such as the "flunette" and the "flax"
Mic these techniques effectively, picking up minimal extraneous noise
"Presented with a sense of humor and wit, this is a wonderful compendium of available colors and extra-musical sound effects on the saxophone."
— Dave Liebman
"Uell Dorig has compiled a comprehensive book on the multitude of sounds available from a saxophone, sounds that will expand your expressive palate. Congrats on a great book!"
— Bob Mitzner
"It's so nice to explore a book that deals with an expanded approach of expression beyond just the notes we focus on. Our personal relationships with our instruments is what fuels our ideas as improvisers. Developing a personal sound on the saxophone requires a deep study into all of the possibilities the instrument and our imaginations will take us. This book, Saxophone Sound Effects, will set you on your way."
— Joe Lovano