Solo Jazz Piano: The Linear Approach
by Neil Olmstead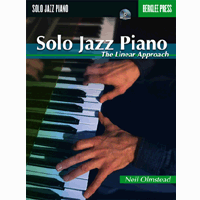 A step-by-step approach to solo jazz improvisation for piano.
Learn to improvise using the techniques pioneered by piano greats Lenny Tristano and Dave McKenna. This methodical approach to learning the art of solo jazz piano improvisation will free your creative sense of music. It begins with a review of chord symbol interpretation, walks through bass line development, and ends with how to play several melodic lines simultaneously in stimulating musical conversation.
You'll learn how to develop solos that embellish and support the melody, and use lead sheets to help you generate your own musical ideas. Twenty-one lessons present techniques, practice exercises, and tunes based on jazz standards. Notated transcriptions of sample improvisations illustrate each lesson's technique, and the accompanying CD lets you hear a master improviser put these ideas to work. Packed with hundreds of ideas that will teach you the art of improvisation, this book will help you:
• Develop pianistic bass lines that capture the heart of the tune
• Interpret chord symbols melodically and harmonically
• Use rhythmic ideas such as metric modulation to develop a sense of motion and development
• Simultaneously improvise in multiple voices
• Use contrapuntal concepts such as pedal point, guide-tone lines, and non-chord tones to lend coherence and interest to your improvisations


About the Author
Neil Olmstead
Neil Olmstead is an active jazz pianist, teacher, and composer. During a ten-year solo piano residency at Boston's Copley Plaza Hotel, he opened for Teddy Wilson, Dave McKenna, and Adam Makowicz, among others. Recordings of his classical compositions include "Sinfonia Borealis" and "Night Fishing" (Master Musicians Collective). He holds a bachelor of music from Berklee College of Music and a master of music from New England Conservatory. Neil is currently Professor of Piano at Berklee College of Music.
BUZZ
"This weighty book and CD provide you with a framework with which to develop your ability to think (and play) in a linear fashion. The exercises are very musical, the explanations clear. A good way to grow your improvisation musicianship."
-How to Jam (Keyboard magazine supplement)
"I recommend this well conceived and researched book. The tunes that Neil uses as a base for his etudes are wonderful."
-Dave McKenna, professional piano player
"Solo Jazz Piano includes a wide variety of techniques and ideas that are certain to captivate students and teachers alike. It shows how to apply these ideas, step by step, in a very clear, interesting, and practical manner. I highly recommend it to those aspiring to develop a solid foundation of solo jazz piano playing."
-Joanne Brackeen, Composer, jazz pianist, Professor, Berklee College of Music
"At last, a book that gives the student solo pianist insight as to how to break away from stride and explore the more profound aspects of jazz time and improvisation."
-Alan Broadbent, pianist, composer, arranger
Also by Neil Olmstead