Tell a Friend
Email someone who you think might like this title.
New World Drumming, with Pablo Peña "Pablitodrum"
by Pablo Peña

Bring world rhythms and sounds into your drum set playing.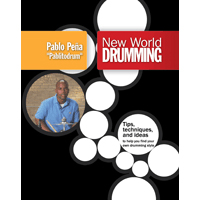 Learn the three ways that the drum set plays in world music settings: a standard kit as part of a percussion section, a standard kit alone, and an expanded drum set that includes world instruments, such as tambora. This systematic approach includes demonstrations and practice grooves for merengue and other Dominican rhythms, which you will learn to bring into funk, jazz, and other styles. Exploring these possibilities and learning these techniques will help you to develop your personal voice as a drummer.
Learn to:
Play drum set in a percussion ensemble
Incorporate world rhythms and sounds into a standard drum kit
Expand your drum set to include other instruments
Create drum parts that are appropriate to the style and ensemble
Improve your independence
Play odd meters
Pablo "Pablitodrum" Peña is an internationally acclaimed drummer most known for inventive fusions of jazz, rock, and dance forms with traditional rhythms of his native Dominican Republic, as well as Cuba and Brazil. He has performed with Eguie Castrillo, Tiger Okoshi, and many others. Pablo founded the Santa Domingo music school Drums, Centro de Enseñanza in 2000. He is author of Metodo de Enseñanza para bateria y tambora (Tambora and Drums Training Method) and a Michel Camilo scholarship winner at Berklee College of Music.
"This DVD is an exciting new look at the possibilities in the ever-growing modern drums vocabulary. Pablo Peña is a gifted young Dominican drummer who is able to apply his rhythmic knowledge, virtuosity, and cultural heritage to the contemporary drum set. I enjoyed rediscovering all these beats!"
—Michel Camilo, Multi-Grammy-winning recording artist (Live at the Blue Note, Spain, Rhapsody in Blue)