George Alan Dawson (1929 to 1996) was born on July 14, 1929 in Marietta, Pennsylvania. He was the fourth child born to the late James W. and Eva Dawson. Alan was raised in Roxbury, Massachusetts. By the tender age of fourteen, he was playing professionally.
He studied drum set for four years with percussionist Charles Alden before serving in the Army in 1951 during the Korean War. Alan played with the Army Dance Band while stationed at Fort Dix. After his release from the Army in 1953, he toured for three months in Europe with the Lionel Hampton Orchestra. He then returned to Roxbury and began working with his former boss, local bandleader, Sabby Lewis.
There have been many honors in Alan's illustrious jazz career. During the mid-fifties, he was able to maintain an active recording career including clinics and some brief tours. In 1957, he became the house drummer for six nights a week at Wally's Paradise in Boston. He also began his eighteen-year teaching career at Berklee College of Music.
In the early '60s, Alan joined pianist Ray Santisi and bassist John Neves as the house rhythm section at Lennie's on the Turnpike in Peabody, Massachusetts, where the wider world discovered his talent.
Alan recorded with such greats as Booker Ervin, Dave Brubeck, Lionel Hampton, Quincy Jones, George Benson, Clifford Brown, Jaki Byard, James Williams, Andy McGhee, Phil Wilson, Bill pierce, John Lockwood, and many more. He traveled extensively in this country as well as Europe, Australia, and Asia.
Alan was a pioneering jazz drum teacher at Berklee college of Music, where he taught from 1957 to 1975, and his influence continues, with courses and teaching approaches echoing his influence decades after his passing. Among some of his notable pupils are Harvey Mason, Terri Lyne Carrington, Jake Hanna, Kenwood Dennard, Tony Williams, Keith Copeland, Bobby Ward, Akira Tara, Casey Scheuerell, Yoron Israel, Henrique D'Almeida, and many others.
Alan's work with Jaki Byard on piano and Richard Davis on bass for Prestige Records was substantial between l963 and l968. From 1968 to 1975, he worked with the Dave Brubeck Quartet and toured with Brubeck's family band, Two Generations of Brubeck.
In 1975, he ended his teaching at Berklee and worked out of his home until his death in 1996. This was also the period when he formed a quartet that included Bill Pierce, James Williams, and Richard Reid.
Alan and Florence Howell were married in 1954 after she completed nursing school. They had two children, Alan R. and Deborah Dawson Mullins, and three grandchildren, Melinda, Melvin Richard, and Alan R. Dawson, Jr.
Books by Author: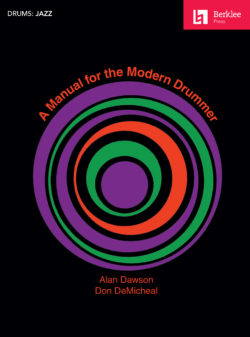 Learn jazz drums from one of the classic texts of jazz drumming! Now in its second edition. Alan Dawson created…