Beth Denisch's music has been performed at Moscow's Concert Studio of Radio "Kultura," in Russia, at Jordan Hall in Boston, and Weill Recital Hall at Carnegie Hall in New York, across the U.S., and in Canada, China, Ecuador, Finland, Greece, Japan, and Scotland. Her music has received radio play and tracks are available online; CDs from Albany, Juxtab, Odyssey, and Interval record labels. Scores are published/distributed by Juxtab Music, ClearNote Publications, and TrevCo Music. She is author of Contemporary Counterpoint: Theory and Practice (Berklee Press, 2017).
Denisch frequently draws inspiration from artists as well as authors such as Henry James in Sorrow and Tenderness, commissioned by the Handel and Haydn Society, and Jeanette Winterson, for Jordan and the Dog Woman, commissioned by the Equinox Chamber Players. Recently she wrote "The Tree House," a multi-movement work for chorus and chamber ensemble on poems by Kathleen Jamie commissioned by the Concord Women's Chorus. Many ensembles and organizations have awarded Denisch including the Chamber Orchestra Kremlin in Moscow for Fire Mountain Intermezzo; Pennsylvania Academy of Fine Arts with the Philadelphia Classical Symphony for The Singing Tree, inspired by the Maxfield Parrish painting; and the Composers Guild for Motherwell Lorca's Bagpipe Lament (piano solo version). Other institutions that have commissioned and/or supported Denisch's music include the PatsyLu Fund of Open Meadows Foundation, American Music Center, Our Bodies Ourselves, and the American Society of Composers, Authors, and Publishers.
Denisch is professor of composition at Berklee College of Music where she teaches music composition and theory. She lives with her partner and Koshka, the cat, in Swampscott, MA.
"…fierce rhythmic patterns," Bernard Holland, New York Times
"…brimmed with personality and drive …" Anthony Tommasini, The Boston Globe
"…wonderfully evocative … simply splendid," David Cleary, New Music Connoisseur
Berklee Online Courses by Author:
Books by Author: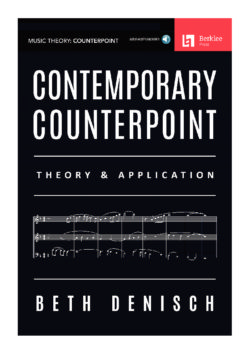 Use counterpoint to make your music more engaging and creative. Counterpoint—the relationship between musical voices—is among the core principles for…