Ed Tomassi is an active performer and bandleader, playing saxophones, clarinet, and flute. He has performed with the Rhode Island Philharmonic, Carl Fontana, Hal Galper, Nick Brignola, Bob Mover, the Four Tops, and the Temptations. A professor at Berklee College of Music, since 1976, Ed has taught jazz improvisation, performance, harmony, and history. He also teaches at Brown University, and presents clinics for the Dave Liebman IASJ (International Association of Schools of Jazz), among others. He graduated from Berklee Summa Cum Laude, with a major in composition. His mentors include Dave Liebman, Charlie Mariano, George Coleman, Joe Viola, Charlie Banacos, and Jerry Bergonzi. Ed's instructional video/DVD is called Jazz Improvisation: Starting Out with Motivic Development (Berklee Press, 2003).
Berklee Online Courses by Author:
Books by Author: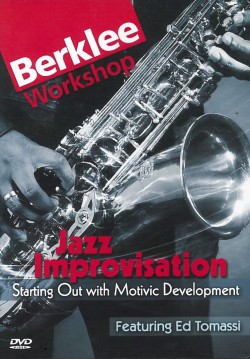 Build compelling improvisations from just a few notes, with a method that's easy to understand and practice.