Born in Seoul, Korea, Hey Rim Jeon is an active pianist and clinician, who performs internationally as a soloist and with her band. She is an assistant professor of piano at Berklee, where she has taught since 2009. She has also served as a guest clinician at the New England Conservatory and the Seoul Jazz Academy.
Her recordings as a bandleader or soloist include Introducing Hey Rim Jeon (N-Coded Music, 2012), Mona Lisa Puzzle (Jazzjeon Productions, 2009; Best Jazz Album of 2009, New England Urban Music Awards), Alone (Akasaka Kougei, 2007), and Hey Rim Jeon & Friends (Take Note Music, 2003).
Hey Rim has collaborated with artists such as Benny Golson, Terri Lyne Carrington, Dave Liebman, James Genus, Richie Barshay, and Doan Trang. Notable performances have included an appearance at Lincoln Center in New York; at the Jazz Informance in Chesapeake, Virginia; at the Beantown Jazz Festival in Boston; and at the International Association for Jazz Education Conference in Toronto, Canada. She has also performed at some of Asia's top jazz clubs and festivals in both Korea and Japan. Television appearances include WNBC Live's Weekend Today in New York, and radio appearances include BBC's The World.
Hey Rim graduated summa cum laude from Berklee and also holds a masters from New England Conservatory. She studied with JoAnne Brackeen, Laszlo Gardony Ray Santisi, Ran Blake, George Garzone, and Michael Cain. Visit her website at www.jazzjeon.com.
Books by Author: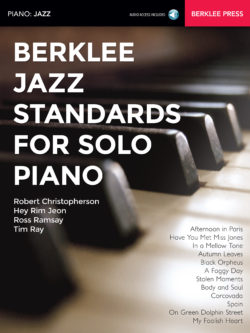 Learn twelve of the most popular jazz standards, arranged for solo piano! These arrangements are musically suitable for performance and…