Mitch Seidman has a B.M. from Berklee College of Music, and a Mus.M. from Boston University. He is a guitarist, and has performed at Scullers, the Regattabar, and Ryles in Boston; Jazzmania and the Other End in New York; and Papashon in L.A.
He has also performed with Joe Beck, John Pisano, Alan Dawson, Joe Hunt, Eddie Jones, Charlie Kohlhase, Teddy Kotick, Harvie S (formerly Swartz), and Harold Vick, and his concerts include the 1995 Jazz is Toulon Festival in France; the Internationales Jazz Guitar Meeting 1999 in Germany; and the Annual Classic American Guitar Show in New York; the Newport Guitar Festival in Rhode Island.
He has made recordings on Cadence, Jardis, and Brownstone Records, is the coauthor of Playing the Changes (Berklee Press), a contributing editor for Twentieth-Century Guitar magazine, and was an artist-in-residence at the Centro Cultural Costarricense-Norteamericano in San Jose, Costa Rica, 1997.
Books by Author: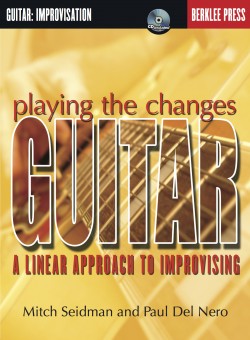 Effective improvisation can add fun and individuality to guitar parts. In Playing the Changes: Guitar, Mitch Seidman and Paul Del Nero present a unique improvisation strategy based on ear training and a linear interpretation of note relationships.