Rick Peckham is an internationally known jazz guitarist and educator. He has presented performances and clinics on six continents and specializes in a unique blend of styles, including jazz, rock, blues, fusion, and country fingerstyle performance.
Currently a full-time professor in Berklee's Guitar Department, Peckham has been a faculty member since 1986, and served as assistant chair of the Guitar Department, with 1,100 guitar students and 60 guitar faculty, from 1992 to 2013.
The internationally released album Left End, with drummer Jim Black and bassist Tony Scherr, was named one of the best releases of 2005 by DownBeat Magazine. He organized the college's honorary doctoral tributes to Roy Haynes, Joe Zawinul, Jack DeJohnette and John Scofield, featuring then-Berklee students Kurt Rosenwinkel, Matthew Garrison, Antonio Hart, Abe Laboriel Jr., Melvin Butler, and Seamus Blake. Several other students he has coached at Berklee include Lionel Loueke, Lage Lund, Frank Möbus, Jeff Parker, Matt Stevens, and Nir Felder.
Some of his published works are two 12-week Berklee Online courses: Berklee Guitar Chords 101 (2007 UCEA award for best online class) and Berklee Guitar Chords 201, and Berklee Press/Hal Leonard books Berklee Jazz Guitar Dictionary,  Berklee Rock Chord Dictionary, and Modal Voicings for Guitar (with video tutorials).
Berklee Online Courses by Author:
Books by Author: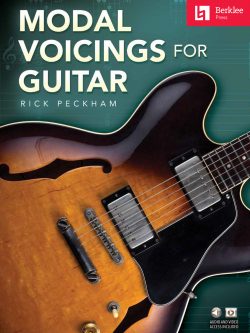 Bring new colors and voicings to your guitar playing. Berklee Professor of Guitar Rick Peckham unlocks the mysteries of modal…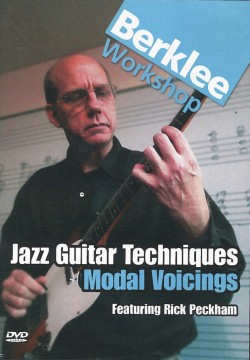 Bring new colors and voicings to your playing with these inventive demonstrations on guitar.