Rob Thomas is a highly regarded jazz multi-instrumentalist, fluent on violin, cello, and bass. JazzTimes calls him "a violinist of exceptional creative resources… riveting as a solo voice with a rich complex tone that can sing or
shriek." Thomas has been "singing and shrieking" in and around New York City since moving there from the Northwest in 1991. In the mid '90s, he toured and recorded extensively with 'downtown' mainstays, the Jazz Passengers, who often featured guest vocalists Deborah Harry and Elvis Costello. He is a veteran of Gregg Bendian's Mahavishnu Project, and can be heard on two critically acclaimed recordings by that adventurous repertory ensemble. Since 2001, Thomas has held the violin chair in the String Trio of New York, being the fifth in an series of notable violinists to join guitarist James Emery and bassist John Lindberg in this illustrious group, whose presence on the scene spans nearly four decades. Four outstanding recordings by the trio have been issued in the "Thomas era." Rob has also contributed to recordings by Lee Konitz, Andy Summers, and Mark Ribot. He records and performs regularly with the Chris Parker Band, Gypsy Jazz Caravan, Chuck Owen's & Jazz Surge; big band, and Annette Aguilar. He has also worked with John Handy's Monterey; Quintet, Max Roach, Jan Hammer, Bobby Previte, Claude Williams, The Soldier String Quartet, Akua Dixon's Quartette Indigo, and Ada Rovatti Brecker's Green Factor.
While studying classical violin and music theory in his hometown of Eugene at the University of Oregon, Thomas became fascinated with jazz and soon began working with the local players. He later moved to Portland and
eventually played throughout the Pacific Northwest as a leader on violin and a sideman on bass (on which he "doubled expertly," according to Leonard Feather in a Los Angeles Times festival review), gaining valuable experience in pick-up bands with jazz greats such as Joe Henderson, Bobby Hutcherson, Charlie Rouse, Eddie Harris, Mose Allison, Nat Adderly, and others. Rob's own groups made regular appearances at regional clubs and festivals and often included local luminaries, Glen Moore, Nancy King, and Jerry Hahn. Although "semi-retired" from bass playing, in recent years he has toured Asia with the New York Voices, and Africa with Annette Aguilar's &String Beans. Also an active educator, Thomas taught in the Northwest at Reed and Marylhurst Colleges, and at Cornish College of the Arts. He is currently a professor at Berklee College of Music (Boston) and an adjunct instructor at the New School in NYC.
Books by Author: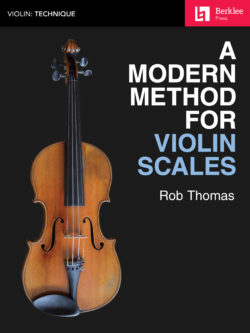 Develop mastery and control over the violin fingerboard, in all keys. Whether you are playing classical, jazz, fiddle tunes, or…