Shane Adams is a twice GRAMMY-nominated music educator and an award-winning producer and songwriter. Shane is president of Artist Accelerator (2019 Nashville Award winner in the Recording Studios category) and a founding lyric/songwriting instructor for Berklee Online, the online education division of Berklee College of Music.
Shane is a featured songwriter and instructor for the Taylor Swift Education Center at the Country Music Hall of Fame and Museum where he received their Top Ten Hitmaker award for 2014. He co-developed their groundbreaking "Words and Music" curriculum, which has enabled over 100,000 (and counting!) elementary through high-school students to learn the craft of songwriting. Shane has served on the Hall of Fame's Museum Expansion Advisory Board and has facilitated other music outreach programs, such as "Poetry in Motion" co-sponsored by the Nashville Arts Commission and the NCAA Women's Final Four.
In 2013, Shane was named the Music Industry Professional of the Year by Chowan University, and in 2005, he earned the Tennessee Songwriter Association International's highest honor, the Hallman Award, for outstanding contributions to the songwriting community.
Shane is currently the featured composer for Fjor Films and has produced the music and scored several independent film projects, including Fortune Cookie (featured at both the Sundance and Hollywood Film Festivals).
Shane is recognized internationally as a groundbreaking songwriting lecturer and music production panelist. He is a regular columnist for iSing Magazine and is co-host/co-producer for iTunes featured podcast, Studio Soundtrack: Music We Live By.
Shane Adams is a Las Vegas native, a Berklee College of Music alumnus, and currently resides in Nashville, Tennessee.
Berklee Online Courses by Author:
Books by Author: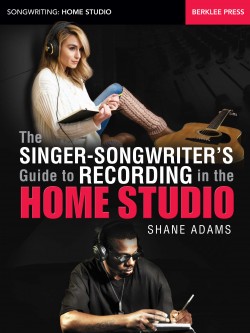 Record songs in your own home studio! Today's smart singer-songwriter needs to be able to record high quality demo recordings….