Tim Ray's wide-ranging skills as a soloist and accompanist have afforded him the opportunity to perform with legendary performers from all walks of music. Appearing on over 75 recordings to date, Tim regularly performs with leading figures in the jazz world, among them Gary Burton, Phil Woods, Scott Hamilton, Esperanza Spalding, Dave Douglas, Brian Blade, Mike Stern, Lewis Nash, and Rufus Reid. He has performed in concert with an extensive list of pop music icons, notably Aretha Franklin, Bonnie Raitt, Jane Siberry, and for over fifteen years, touring with Lyle Lovett. His classical credits include solo performances and concerts with Gunther Schuller, the Boston Pops, the Boston Modern Orchestra Project, and the Boston Classical Orchestra.
Tim's busy schedule has included frequent tours throughout the Americas, Canada, Mexico, Europe, Asia, and the Middle East, and has included performances at Carnegie Hall, the White House, the Kennedy Center and the 1992 Presidential Inauguration. Tim has also performed repeatedly on The Tonight Show (Johnny Carson, Jay Leno), Late Night with David Letterman, The Conan O'Brien Show, Austin City Limits, and various other national TV and radio broadcasts.
Tim released his first recording as a leader, Ideas & Opinions, in 1997 on Gunther Schuller's GM Recordings label, featuring drummer Lewis Nash and bassist Rufus Reid. His second self-led recording Tre Corda (2003) includes Greg Hopkins on trumpet and Eugene Friesen on cello. This "chamber jazz" trio released their next recording, Squeaky Toy, in 2013, featuring original compositions and music by Béla Bartók. Tim's most recent recording, Windows (Whaling City Sound: 2016) includes bassist John Lockwood and drummer Mark Walker. Tim also has recorded a solo piano album, On My Own, Vol. 1—New Works, which is a collection of original compositions and improvisations. He maintains an active and varied performing schedule in addition to his teaching duties in the Piano Department at the Berklee College of Music. Find more information about Tim's performances and recordings at his website www.AgitatedCatMusic.com.
Books by Author: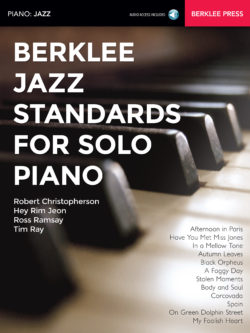 Learn twelve of the most popular jazz standards, arranged for solo piano! These arrangements are musically suitable for performance and…