Yoron Israel has a B.M. from Roosevelt University, and an M.M. from Rutgers University. He is a drummer, percussionist, vibraphonist, educator, composer, and author, as well as bandleader of the groups High Standards, Connection, and Organic. Israel currently performs internationally with Jay Hoggard, Avery Sharpe, and Laszlo Gardony.
He has performed extensively and recorded over 200 recordings with such renowned artists as Sonny Rollins, Horace Silver, Ahmad Jamal, Abbey Lincoln, Art Farmer, Tony Bennett, Kenny Burrell, Benny Golson, Jimmy Heath, James Williams, Joe Lovano, Tom Harrell, Roy Hargrove, Shirley Caesar, and the Chicago Civic Orchestra.
His recordings as a leader include Here Today, and Visions (Ronja Music), featuring High Standards; Basic Traneing (Ronja Music); Chicago (Double Time Records), featuring Organic; Live at the Blue Note (Half Note); and A Gift for You (Ronja Music), featuring Connection.
He has been reviewed in publications such as Modern Drummer, Down Beat, Jazz Times, the New York Times, the Chicago Tribune, and the Boston Globe. Israel is a former faculty member of Rutgers University, William Patterson University, and the New School/Mannes College of Music. He teaches drum set, general percussion, vibraphone, ensembles, jazz history, and theory, and is the owner and president of the music publishing and production company Ronja Music.
Berklee Online Courses by Author:
Books by Author: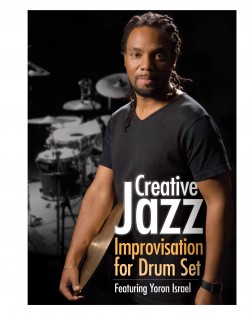 Improvise more creatively and develop your personal style of improvisation.