August Watters is a multi-stylistic, improvising mandolinist, composer/arranger, and teacher who has performed with some of the leading figures in today's revival of this elegant instrument, including Carlo Aonzo, Don Stiernberg, Marilynn Mair, and Butch Baldassari. His work as an interpreter, improviser, composer, and arranger bridges contemporary classical music, jazz, folk music traditions, and the historical concert mandolin repertoire.
Watters is also deeply involved, as a composer/arranger and performer, in the advancement of music for mandolin-guitar ensembles. He is the founder of the New England Mandolin Ensemble, Boston Mandolins, the Festival of Mandolin Chamber Music, and Cape Cod Mandolin Camp. He currently plays mandola in the New American Mandolin Ensemble and has performed extensively in solo and duo formats.
As an international clinician and soloist, Watters has performed in Italy, Germany, England, the Czech Republic, Canada, and the United States. He is also an Emmy award-winning arranger, with dozens of studio credits as arranger, orchestrator, and conductor for television and film music. Watters holds a Masters of Music Education from Boston University and a Bachelor's of Music from Berklee College of Music (summa cum laude), majoring in jazz composition and arranging.
Watters is a professor of ear training at Berklee College of Music, where he has been recognized by the String Department and the college administration for developing and teaching new curricula designed for the needs of improvising string players. His New Acoustic Music Ensemble has trained successive generations of roots-oriented improvisers since its inception in 2000. In addition, Watters has taught Berklee classes in harmony, composition, arranging, and interpretation, as well as private mandolin lessons. August Watters' mandolin, model "Lucia," was built in 2010 by Carlo Mazzaccara. His mandola (in GDAE tuning) was custom-designed and built for him in 2004 by Rozawood Instruments
Books by Author: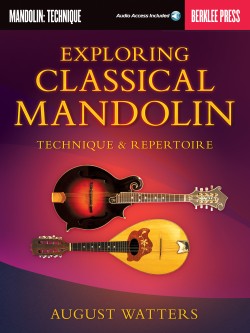 Learn the techniques, common practices, and essential repertoire of the classical mandolin.