Bruce Hangen is artistic director and conductor of the Orchestra of Indian Hill and director of orchestral activities and professor of conducting at the Boston Conservatory at Berklee, Boston, Massachusetts. Formerly music director of the Portland (Maine) and Omaha Symphony Orchestras, Hangen also was the founder and conductor of the Portland (Maine) Opera Repertory Theatre, and has held titled positions with the orchestras of Denver, Kansas City, Utah, Syracuse, and Buffalo. Guest conducting has taken him throughout North America as well as Taiwan and Japan.
Known for his organizational leadership, musical versatility, and creative programming, Hangen also has conducted pops concerts extensively, including a twenty-year relationship with the Boston Pops Orchestra, for whom he was principal pops guest conductor. He also held the title of the Boston Symphony's Germeshausen Family Youth Concerts Conductor's Chair. For twelve years, Hangen was music director of the Omaha (Nebraska) Symphony. Under his direction, the Omaha Symphony achieved recognition for its significantly expanded program offerings, including the nationally acclaimed "West Meets West," a celebration of the Native American, conceived and conducted by Hangen. His influence extended far beyond the Midwest, too, in establishing a sister-orchestra relationship between the Omaha Symphony and the Orchestra of Shizuoka, Japan.
Before taking the Omaha Symphony Music Directorship, Hangen was music director and conductor of the Portland (Maine) Symphony and associate conductor of the Denver Symphony. A graduate of the Eastman School of Music, Hangen was also a conducting fellow at the Berkshire Music Center at Tanglewood, where his conducting teachers included Gunther Schuller, Seiji Ozawa, Leonard Bernstein, Michael Tilson Thomas, Stanislaw Skrowaczewski, Bruno Maderna, and Joseph Silverstein.
Books by Author: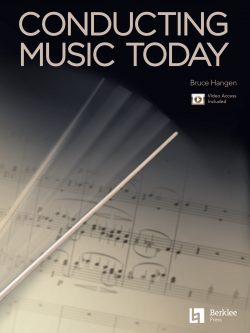 Learn the essential practices of contemporary conducting. This book will teach you to use the motions, cues, patterns, and practices…