Jon Hazilla has performed and or recorded with Jo Anne Brackeen, James Williams, John Hicks, Billy Taylor, Aaron Goldberg, Ray Drummond, Ron Carter, George Garzone, Benny Golson, Billy Pierce, Steve Grossman, Larry Coryell, Kenny Wheeler, Sheila Jordan, Ran Blake, John Clayton, and Max Roach. He continues to perform in countless global festivals including the Azores, to Costa Rica, Warsaw, Rome, Nice, Serbia, and Kyoto, to name a few. He is a graduate of New England Conservatory of Music.
He received a National Endowment Award in 1987, the Robert Porter Memorial Advancement Award in Education from the American Federation of Teachers in 2002, a Berklee Fellowship Grant in 2006, and the Steelgrass residency in Kauai, Hawaii in 2012.
He has produced eight recordings as a leader, and recorded over forty-five more as a sideman. Berklee Press originally published his first book Mastering The Art of Brushes in 2002, with its second edition in 2017. His second book, Rhythmic Reflections on Creative Teaching, was published by Mosaic in 2013. Hal Leonard released his DVD Brush Control in 2008.
Jon is cofounder of Jazz on Wheels, a volunteer group of musicians that performs free concerts at Boston public libraries for inner city children. He was a mentor for the City Music Program, volunteered for Habitat for Humanity helping victims of Hurricane Katrina, and was music facilitator for Project Common Bond serving young adults from around the world who have experienced trauma. He is a certified hospice volunteer for Aseracare Hospice. He is a Pastoral Associate at First Parish Unitarian Universalist church in Brookline, Massachusetts, and teaches in the R. E. program. He has run over thirty-five marathons and one ultra, and has a P.R. of 2:38.
Jon is a professor at Berklee College of Music, where he has taught since 1987. Jon's natural gift for teaching keeps him in high demand in and around Boston and worldwide.
Books by Author: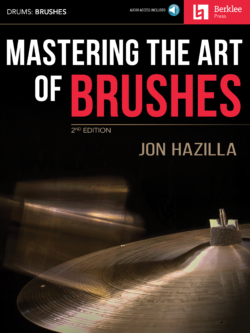 The art of brush playing has been largely unexplored in drumming technique studies. At Berklee College of Music, Jon Hazilla…