Russell Hoffmann has a B.M. from University of Texas at Arlington, and an M.Ed. from Cambridge College. He has toured as musical director for Concord recording artist Marlena Shaw and the University of Minnesota's "Twelve Moods for Jazz" Langston Hughes project.
He has performed with Robben Ford, Donald Harrison, Billy Hart, Peter Lietch, Jack McDuff, James Moody, Rufus Reid, Joe Zawinul, and many of Boston and Minneapolis/St. Paul's finest jazz artists, and has had his compositions and arrangements performed internationally by the Berklee American Songbook Orchestra, the Boston Pops, Craig Ball and the White Heat Swing Orchestra, and the Tony Lada Quartet.
He has been a clinician at Berklee in Umbria, Umbria Jazz Festival, Perugia, Italy; the Pan School, Tokyo, Japan; Seoul Jazz Academy; Fermata Mexico City; Berklee in Taipei; BIN School, Kuala Lumpur, Malaysia; and the Berklee High School Jazz Festival.
He has featured on many recordings, with the Berklee Great American Songbook Orchestra, Mel Gordon, Tedi Marsh, Steve Rochinski, Jan Shapiro, Bob Stoloff, and the Tony Lada/Larry Monroe Sextet, and is the author of Keyboard Comping and Ensemble Performance, and The Berklee Practice Method for Piano.
Berklee Online Courses by Author:
Books by Author: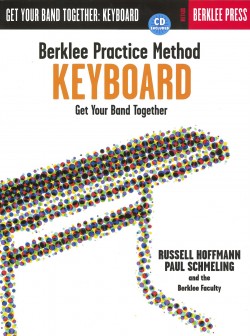 When you play keyboard in a band, your primary concern is chords, how to read and play them, how to progress from one to the next, and how they interact with other instruments, melodically and rhythmically. It's all inside!