Guitarist, composer, educator Steven Kirby ("a guitarist of rippling technique and a poetic mind," Downbeat) is known for performing exciting, melodic, lyrical, and expressive jazz as well performing in other contemporary styles. He has appeared on multiple recordings including three as a leader: Point of Balance and North Light (Challenge Records), and Illuminations (WCS records). Illuminations was a DownBeat Magazine's Editors Pick and was included on the Grammy Nominations long list in four categories. He has performed and/or recorded with many of today's most respected contemporary musicians including Chris Potter, Mike Manieri (Steps Ahead), Joe Lovano, Harvie S, Steve Hunt, Allan Holdsworth and others. He has toured in the U.S., Canada, Caribbean, Europe, China, and Africa.
Kirby's music has been played on over 100 radio stations in the U.S. and internationally including features on NPR's Here and Now, Jazz with Bob Parlocha, and Eric in the Evening.
His jazz compositions have won awards in the International Songwriting Competition, the Billboard Song Contest, and DownBeat. He is a graduate of Berklee College of Music and has a master's degree in jazz composition and arranging from the University of Massachusetts (Amherst).
Kirby has published articles in Guitar Player Magazine, Jazz Improv Magazine, and others. He is currently an associate professor at Berklee College of Music and teaches as a visiting professor at Wellesley College.
Books by Author: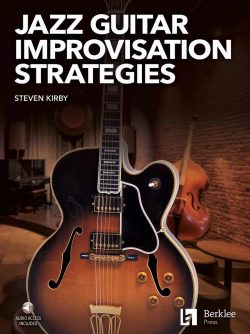 Learn to improvise fluently over common jazz progressions. Learn to use simple source material, such as four-note "cells," and characteristic bebop…