Peter Bell, Electronic Music and Production faculty at Berklee College of Music, is a producer, composer, and guitarist. His commercial music compositions and productions include the themes to This Old House, New Yankee Workshop, Victory Garden, the ABC After School Special, the award-winning film Radio Cape Cod, and countless jingles and production tracks. Peter has produced tracks featuring many world-class musicians, including Livingston Taylor, Kate Taylor, Alex Taylor, Ray Greene, Rory Block, John Poussette-Dart, the New Kids on the Block, Tracey Bonham, Layla Hathaway, Rebecca Parris, Mick Goodrick, Mark Sandman (of Morphine), Patty Griffin, Bonnie Raitt, and many others.
Peter's guitar performance credits include Bonnie Raitt, Susan Tedeschi, Kate Taylor, and James Montgomery. He has recorded with Bonnie Raitt on Warner Brothers, and the James Montgomery Band on Capricorn and Island Records. His awards include two Emmys, seven NEBA awards, and six ASCAP awards. Peter holds a bachelor of music in jazz composition and arranging from Berklee College of Music and a BA in government from Harvard.
Peter's is currently producing his own music and others' along with long-time collaborator David Mash under the name Bar of 2 Productions (www.barof2.com).
Berklee Online Courses by Author:
Books by Author: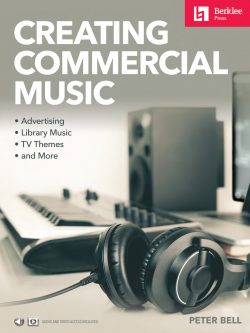 Produce music for profit! Learn to create commercial music for the contemporary marketplace—for advertising, music libraries, TV, and more. Understand…