Prince Charles Alexander is a multiple Grammy winning musician, recording artist, record producer, audio engineer, and professor in the Music Production and Engineering Department at Berklee College of Music where he created the minor in Commercial Record Production. He authored the graduate level Commercial Vocal Production course and co-authored the undergraduate level Vocal Production course for Berklee Online. Professor Alexander commuted for eight years between Berklee and NYU's Clive Davis Institute of Recorded Music creating and teaching innovative new courses in music production, audio engineering, hip-hop and remixing. He authored and teaches Massively Open Online Courses (MOOC's) with EdX.org and Coursera.org., has lectured at the City College of New York, Pace University, the School of Audio Engineering, the University of Oslo (Sweden), the International College of Music in Kuala Lumpur (Malaysia), the Cape Town Academy at Stellenbosch University (South Africa), and many other academic institutions around the world.
Prince Charles began his recorded music career as the producer, songwriter, lead singer, rapper and Lyricon player (a wind synthesizer) of the funk group Prince Charles and the City Beat Band. Aided by his mentor Maurice Starr (the producer of New Edition and New Kids on the Block), and his business partner Tony Rose, he secured record deals with Greyhound, ROIR, Virgin, Atlantic, and Unidisc before disbanding his group and focusing on music production and audio engineering.
As a producer and audio/mixing engineer, Professor Alexander has garnered a Best Rap Album Grammy win for "No Way Out" by Puff Daddy & The Family (1998), a Song of the Year Grammy win for "Fallin'(Remix ft. Busta Rhymes and Rampage)" (2002), a Best Contemporary R&B Gospel Album win for "Again" by Donnie McClurkin (2004), seven Grammy nominations, more than forty platinum and gold certifications by the RIAA (Recording Industry Association of America®), and a Victoires de la Musique (a French Grammy equivalent for his co-production of the iconic French hip-hop album L'Ecole du Micro D'Argent). His client list includes Mary J. Blige, the Notorious B.I.G., J Lo, Diddy, the Lox. 112, Total, Black Rob, Carl Thomas, Mase, Destiny's Child, X-Clan, Aretha Franklin, Luther Vandross, and Sting.
Prince Charles Alexander speaks annually at local Boston high schools and grammar schools, and is the subject of music production and audio engineering video interviews created by Sennheiser and Izotope. He is a member of the Producers and Engineers Wing of the Grammy Committee Board of Governors, the Audio Engineering Society (AES) and the Musician's Union Local 802 in NYC as well as managing up and coming talent through his production company Ark Angel Music, Inc. Plans to release new music as an artist are in the works as well as film projects and, of course, more books.
Books by Author: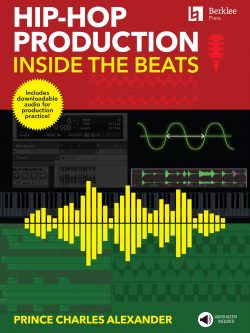 2023 TEC Award Nominee for Best Audio Education Technology! Learn to produce hip-hop tracks! This book traces the technological evolution…