Ben Newhouse is a composer of  film and concert music. Newhouse's commercial music has been used in over 3,000 episodes of television, including projects for ABC, CBS, NBC, and most major cable networks. Newhouse was awarded the BMI Pete Carpenter Fellowship in 1999.
Newhouse's orchestral music has been performed by the Texarkana Symphony Orchestra, the Eastman School Symphonic Orchestra, the William and Mary Symphony Orchestra, and the Pennsylvania Governor's School for the Arts Symphony Orchestra. Newhouse's overture Heat was awarded the "Howard Hanson Prize" for excellence in orchestral composition. Newhouse's Fantasy for Strings won the "Original Works Award" at the 2015 Orchestra Cup. Newhouse's chamber music has been performed by various groups around the United States, Europe, and Asia, including the Zodiac Trio from France and Talespin in Vienna.
Newhouse is a course author and instructor for the continuing education department of the Berklee College of Music. He designed and oversees four courses in orchestration and film scoring. The University Continuing Education Association awarded his Orchestration 1 course "Best New Online Course" in 2009, and Berklee awarded Newhouse the "Distinguished Faculty Award" in 2015. Newhouse has also guest lectured at Pescara Conservatory in Pescara, Italy and Sydney Conservatorium of Music in Sydney, Australia.
Newhouse is a magna cum laude alumnus of the Eastman School of Music. He is a full-fellowship masters degree alumnus of the University of Southern California, completing a masters in business administration and a Business of Entertainment graduate certificate program with the School of Cinematic Arts.
Berklee Online Courses by Author:
Books by Author: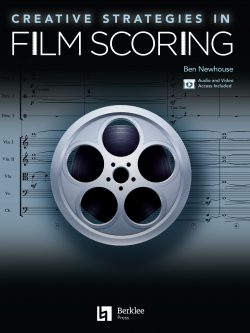 Create effective film scores! This book presents a framework for creative decision-making that will lead to producing the best music…