Mili Bermejo (1952–2017) merged the language of jazz with the emotionally resonant poetry and musical traditions of her Latin American heritage to create a unique body of work as one of Boston's premier vocalists, bandleaders and recording artists.
Raised in a family of prominent musicians and composers, she was born in Buenos Aires and grew up performing with her siblings in the artistically progressive Mexico City of the 1970s. She went on to study classical composition at the National School of Music (UNAM) before coming to Boston in 1980 to study jazz arranging and composition at the Berklee College of Music, where she has taught since joining the faculty in 1984.
Throughout her career in teaching vocal technique, as well as Latin and jazz performance and improvisation, Mili has distinguished herself as an integral bridge between such notable mentors as Jerry Bergonzi, Ran Blake, Gary Chaffee, Mick Goodrick, and Elisabeth Phinney, and next-generation artists including Chiara Civello, Marta Gómez, Laureen Kinhan (New York Voices), Alex Panayi, Esperanza Spaulding, and Tierney Sutton.
In addition, she presented clinics in countries all over the world, served as Jazz Ambassador for the United States Information Service/Arts America, received multiple grants from Meet the Composer and New England Foundation for the Arts (NEFA), added her expertise to panels for the Cambridge Arts Council, Doris Duke Foundation, and the National Endowment for the Arts (NEA), and recorded a dozen releases as a leader/coleader. Her latest album, Arte del Dúo (Ediciones Pentagrama), was released in October 2016.
Books by Author: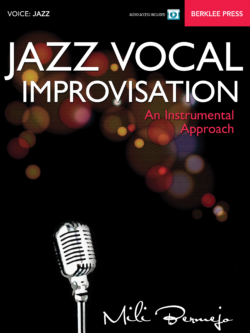 Learn the art of jazz vocal improvisation! This book will help you hear, understand and apply jazz theory so that…