Eric Beall is the Vice President, Creative at Sony/ATV Music. He was the former Creative Director for Zomba Music Publishing, as well as a songwriter and record producer. In his role at Zomba, Eric has signed and developed top writers including Steve Diamond, KNS Productions, and Riprock and Alex G. and has coordinated and directed Zomba writers in the development of material for Jive Records pop superstars like Backstreet Boys, *NSYNC, Britney Spears and Aaron Carter.
Before joining Zomba, Eric wrote and produced the pop hits "Nothin' My Love Can't Fix" for Joey Lawrence (Top-10 Billboard Hot 100) and "Carry On" by Martha Wash (#1 Billboard Dance Chart), as well as songs for Diana Ross, The Jacksons, Safire, Samantha Fox, Brenda K. Starr, and many others. He also co-founded Class-X Recordings, an independent dance label in New York.
Books by Author: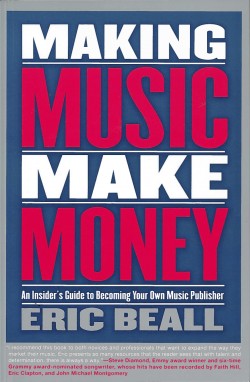 An insideråÕs view of the music publishing business, and practical tips toward helping writers effectively assume their rightful role as a publisher of their own music.